PX736 Splitter DMX 2/10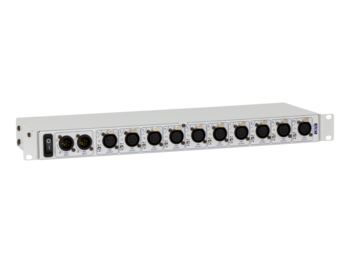 PX736 facilitates branches in extensive DMX512 installations. Connecting multiple receivers in series on one line can be challenging. Implementing a splitter in the topology enables the creation of branches on the DMX line. Additionally, the PX736 amplifies and regenerates DMX512 signals, minimizing interference effects and eliminating signal reflections on the line.
With PX736, you can split two DMX512 input signals into 10 independent branches. Furthermore, you can assign either input (A or B) to each output, thus altering the system topology. The splitter ensures galvanic isolation between individual outputs and from the inputs, guaranteeing the proper operation of the entire installation.
The PX736 splitter comes with a metal housing designed to fit into a RACK system and operates on 110-220 V AC mains.
Technical Data
DMX IN/OUT lines 2 / 10
Opticaly isolated DMX line
Overvoltage protection
Isolation between input and outputs> 1000 V
DMX lines connectors XLR 3-pin or XLR 5-pin
Power supply connector PowerCON TRUE1 Neutrik
Power supply 100 - 240 V AC
Power consumption 10 W
Weight 4.32 lbs
DimensionsWidth: 19"
Height: 1.7"
Depth: 5.5"